Match Reports

Germany v Israel: 22 July


Barry Chambers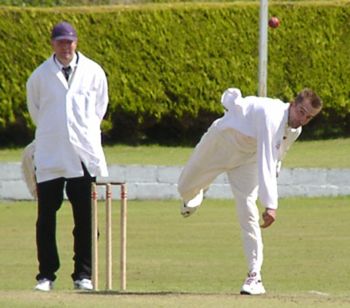 Germany had a crushing ten wicket win in a remarkable game played at Armagh. Israel batted first and struggled against the strong German bowling for whom once again Farooq Ahmed excelled taking 3 for 15. Renald Buss (right) and Zajir Ahmad offered sterling support taking two wickets apiece. Only Hershel Gutman with 24 and Yefet Nagavakar with 15 managed to reach double figures as Israel were bowled out for 122 in the 42nd over.
What followed was one of the stories of the Championship. Anees Butt the German opener scored a remarkable 102 not out off just 75 balls, while his partner Mark Brodersen was content to play an anchor role making just 6 not out off 47 balls. The pair shared an unbroken opening stand of 123 as they passed the Israeli total in just 20.2 overs to record a superb win.