Match Reports

Portugal v Israel: 20 July


Barry Chambers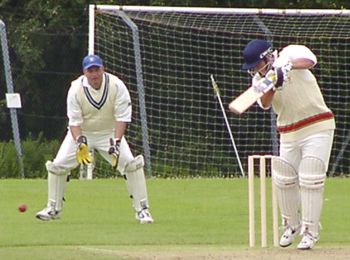 In the rain affected game at Newforge, Portugal got their campaign off to a winning start due in no small part to their openers Nadeem Butt and Paulo Buccimazza who shared in an opening partnership of 162. Butt scored 84 of these while 20 year old Buccimazza showed his undoubted potential with 78. Wickets fell regularly after this as Portugal chased quick runs and in the process suffered 4 run outs. Torbine Rankine hit a rapid 25 as the overs ran out. Hershel Gutman took 4 for 48 as Portugal made 238 in the 47 overs allowed after the delayed start.
Israel put on 43 for the first wicket with Steve Leigh looking particularly good as he made 32. However the introduction of Humayun Shahzad into the attack changed things dramatically as his medium pacers caused the Israeli batsmen no end of trouble. He had the remarkable figures of 5 wickets for 17 runs in an 8 over spell. Isaac Massil scored 39 not out and Jacky Divekar made 23 in the Israeli total of 149, which left Portugal comfortable winners by 89 runs.