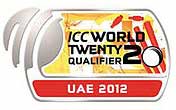 Following 13 regional qualifying tournaments involving over 90 sides, sixteen sides will play in the 12-day tournament which will be staged at four venues - Dubai International Stadium, the ICC Global Cricket Academy (two grounds) in Dubai, Abu Dhabi's Sheikh Zayed Stadium and Sharjah Cricket Stadium.
The 16 teams have been divided into two groups with Afghanistan, Netherlands, Canada, Papua New Guinea , Hong Kong, Bermuda, Denmark and Nepal forming Group A and Ireland, Kenya, Scotland, Namibia, Uganda, Oman, Italy and the USA comprising Group B.
The tournament winner will join Australia and the West Indies in group B of the ICC World Twenty20 2012 in September 2012 while the losing finalist will complete Group A which also includes defending champions England and 2007 winners India.
This will be the third ICC World Twenty20 qualifier. When it was last staged, also in the UAE in 2010, Afghanistan and Ireland claimed the qualifying spots.
Tournament format
The countries that top the two groups will feature in the 1st Qualifying Final on 22 March with the winner sealing their place in the ICC World Twenty20 to be staged in Sri Lanka from 18 September to 7 October 2012.
Meanwhile, the sides that finish second and third in the two groups will play cross-over matches. The winners of those matches will meet in the Preliminary Final on 23 March.
The 2nd Qualifying Final - for the second spot in the ICC World Twenty20 - will take place on 24 March between the loser of the 1st Qualifying Final and the winner of the Preliminary Final.
The winners of the two Qualifying Finals will play in the Tournament Final on the evening of 24 March.