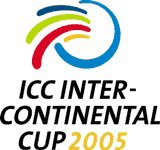 Ireland's prospects in the ICC Intercontinental Cup finals week in Namibia, which starts on 23 October when they face the United Arab Emirates, may hinge on their ability to deal with the absence of star batsman Ed Joyce. Joyce, Ireland's leading run-scorer in the ICC Trophy in July that confirmed their passage to the ICC Cricket World Cup 2007, is unavailable after qualifying for England and achieving selection for the ECB Academy and his absence leaves a large hole in Ireland's line-up.
They do, however, have the consolation of one Joyce being present – Ed's younger brother Dominick, and he played a key role in getting Ireland to the semi-finals of this Event, the first-class tournament for non Test-playing sides. Dominick's 61 against Scotland in Aberdeen gave the bowlers just enough of a target to defend in a low-scoring thriller and he was then one of five batsmen to reach fifty as Ireland batted the Netherlands out of contention in their other Europe group match to ensure qualification for this stage.
But Ireland's batting is not just about the Joyce family. On paper, at least, the top-order has a solid look to it and there are plenty of reasons for Irish supporters to believe they can make big totals in Windhoek. Jeremy Bray made an impressive 135 in that match against the Netherlands and in South Africa-born Andre Botha and Peter Gillespie, Ireland have two other players who showed decent form in the past season.
There is also the prospect of something exciting from 19 year-old Eoin Morgan, who played county cricket alongside Ed Joyce for Middlesex in 2005. Morgan, like Ed, is a left-hander, and is spending time either side of this Event at the ICC's High Performance Programme Winter Training Camp in Pretoria, South Africa, where 23 Associate players are honing their skills.
Ireland's batting is also bolstered by the presence of yet another left-hander, wicketkeeper Niall O'Brien, who spent the summer playing county cricket for Kent, deputising for England 'keeper Geraint Jones.
The bowling has a familiar look to it, led by new captain Trent Johnston, the former New South Wales right-arm fast bowler who has taken over the leadership role from Jason Molins, who has been omitted.
Johnston's pace bowling is supplemented by Botha and Adrian McCoubrey (right), both with first-class experience for Griqualand West and Essex respectively, as well as Paul Mooney, and Ireland also look well-served in the spin department.
Alongside off-spinners Kyle McCallan and Andy White, the latter fresh from a second season of county cricket with Northamptonshire, is 18 year-old leg-spinner Greg Thompson, who played five matches for Lancashire's second eleven this summer.
Ireland's opponents, the United Arab Emirates, are something of an unknown quantity. Mass unavailability for this Event means only four of the side that played in the ICC Trophy match against Ireland in Belfast on 4 July are in the squad for Namibia.
That encounter, albeit at one-day level, was one of the matches of the tournament with Ireland chasing down a target of 231, winning with just one ball and two wickets in hand thanks to an unbeaten 115 from Ed Joyce and 67 from 68 balls by Johnston.
The new captain is in confident mood ahead of the ICC Intercontinental Cup finals feeling his side is well-served in every department.
"Our strength is in our depth in all three areas," said Johnston. "We bat all the way down, we have a very balanced bowling side and field very well. It's going to be hard to leave out two members of the team."