The usual winter game of musical chairs has begun in earnest, and it is already clear that there will be a realignment of forces in 2006.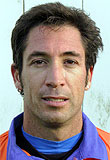 Schiedam club Excelsior '20 had already announced that South African-born Dutch all-rounder Billy Stelling (right) and former national team member, Australian-born Chris Smith, would not be wearing the black and gold next year. Stelling will turn out for HBS Den Haag, who narrowly avoided relegation this season, while Smith will be moving to VOC Rotterdam.
Now it transpires that seamer Ernst van Giezen will be leaving Excelsior's Schiedam rivals Hermes-DVS, and will be joining Smith at VOC, where his arrival will be some compensation should Ben Goedegebuur receive a suspension for an alleged doping offence. The KNCB has declined to announce the Disciplinary Committee's decisions pending any possible appeal.

It is further reported that international off-spinner Adeel Raja will be leaving champions VRA to play for Voorburg, who were also fighting relegation until the final round of matches in 2005.
Another player to change allegiances is Bijlmer's player-coach Pankaj Joshi, who will replace New Zealander Neil McCullum at Hermes-DVS. Joshi has been around for several seasons, having played for another Amsterdam club, Dosti (formerly Gandhi), before joining BCC in 2004.