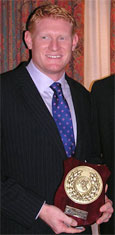 The Northern Ireland Player of the Year, Regan West, is rejoining Instonians. Professional at Bangor for the last two seasons, the New Zealander is now a local player, living in Belfast after marrying a Northern Ireland girl, and next year he will assist professional Eugene Moleon in coaching youth cricket at Shaw's Bridge.
West, who is being touted as a future Ireland international, finished top of the NCU batting averages last season with 907 runs at an average of 82.45 and was also 14th in the bowling averages, his 24 wickets costing less than 21 runs each, one wicket and one run behind South African Moleon.
The return of West to Instonians should ensure the south Belfast club get back into the top half of the Premier League, their sixth place finish this year their lowest position since missing relegation by four points in 2000. Significantly, though, since Moleon's arrival in 2003, Instonians have been nearer the top than the bottom and after losing Ireland international Andrew White to county cricket last season it was hardly surprising they did not fare as well.
With West's arrival, he will make up for White's runs and wickets and under new captain Neil Carson, who has just enjoyed his best season - finishing top of the club's batting averages - there is plenty of optimism around Instonians. With West and Moleon together at the club in 2003, they finished joint second, just one win behind champions North Down.
Commenting on his move, West said: "I enjoyed my two years at Bangor and made a lot of friends there, however, now that I am working full time (in an accountants' firm) and living in Belfast it seemed a natural move to come back to Instonians. I have retained a lot of contact with my former team mates and am particularly looking forward to playing again with big Eugene."
Welcoming the Kiwi, Carson said: "Both the club and the school are delighted to have Eugene returning for his fourth year. We are also delighted to have Regan back at the club, everyone knows how good a player he is and I have no doubt he will make us more competitive. With a number of very good young players in the team and at the school we feel that it is very important we provide them with a solid base to play their senior cricket. Regan and a number of the team have remained friends over the last three years and his father-in-law actually played at the club until recently."