George Dockrell
Born: 22 July 1992, Dublin.
Occupation: Cricketer
Club: Somerset County Cricket Club, Leinster Cricket Club
Previous Clubs: None
Secondary School: Gonzaga College
Representative Honours: Leinster U13/U15/U17/U19, Ireland U13/U15/U17/U19/ Ireland 'A', Ireland, Somerset 2nd XI, Somerset 1st XI Ireland
Statistics: Has played 36 times for Ireland, scoring 62 runs at 6.89 with his highest score of 30 not out coming against Zimbabwe. He has taken 49 wickets at 22.88, with a best bowling return of 4 for 19 against Canada. In addition he has 11 catches and two run-outs to his name.
Cricketing Career
Who had the greatest influence on your career? My parents for all of their support and a number of coaches- Brian O'Rourke, Matt Dwyer, Adi Birrell, Phil Simmons.
What is your ultimate cricketing aspiration? My ultimate aspiration is to win the World Cup with Ireland.
What is your most memorable cricketing moment? Taking 3-16 against the West Indies in the T20 World cup in April.
What was your worst cricketing moment? Being knocked out of the same competition due to the weather versus England.
What is your funniest cricketing moment? William Porterfield and Andre Botha's run out in Dubai.
Who is your best friend in Irish Cricket and why?Paul Stirling, because I have played with him through the age groups and have had many great tours with him.
Irish Cricket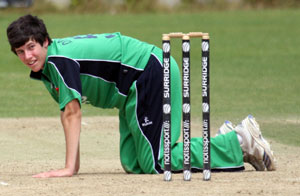 Who is your favourite Irish cricketer (past and present), and why? Kyle McCallan for his consistent performances and outstanding contribution to Irish Cricket.
Which is your favourite Irish cricket ground, and why? Observatory Lane, Rathmines ( Leinster CC ). -This is where I started playing cricket.
Who is the best young Irish cricketer you have seen in recent times? Andrew and David Delany.
What do you think of overseas professionals in Irish club cricket? I think they are important as they raise the standard of the games and also are very helpful coaching young players within clubs.
Do you think bowlers should be restricted in domestic cricket?Yes - the regulations need to prepare players for International Cricket.
What are your main complaints about Irish cricket? The numbers participating and the support, but these are growing.
How would you set about improving the standard of Irish cricket? I think Irish Cricket is heading in the right direction.
How would you set about making Irish cricket more popular? Introduce a televised T20 competition.
International Cricket
Which Test team, if any, do you support, and why? I don't support any test team.
Which overseas countries have you played cricket in? Canada, Jamaica, Trinidad and Tobago, Barbados, Antigua, Guyana, South Africa, Zimbabwe, United Arab Emirates, New Zealand, Australia, Wales, Scotland, Holland, England, India, Sri Lanka.
Which was your favourite, and why? New Zealand- good cricket, great weather and a beautiful country with lots of activities.
Who is your favourite world cricketer, and why? Daniel Vettori because of his incredible control and cunning bowling.
Who is your favourite English cricketer, and why? Marcus Trescothick because he is amazingly talented and great to train with.
Your Interests
Which other sports do you play regularly? I used to play hockey but I don't play any other sports any more.
What are your hobbies? I am becoming very interested in golf
Who is your favourite musical artist? Miike Snow
Who is your favourite author? Dan Brown
Which is your favourite film? Law Abiding Citizen
What is your favourite newspaper? The Irish Times
What is your favourite television programme? Scrubs
What is your favourite web site? Cricket Ireland
What is your favourite type of food? Roast Beef and Yorkshire Pudding
Where is your favourite place to go on holiday? Galway