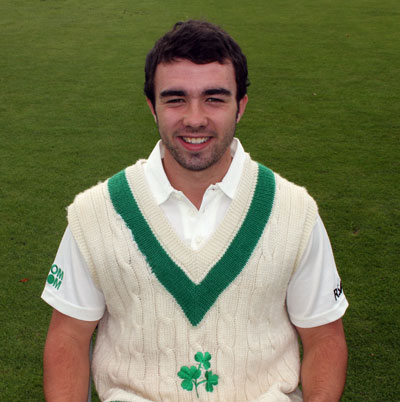 Stuart Thompson has been added to the Ireland squad for the Pepsi ICC World Cricket League ODI's against Afghanistan at Clontarf on July 3 and 5.
The 20 year old Limavady all-rounder has been rewarded for his fine performances with Ireland A this season, including 93 in their win against Gloucestershire and 71 in their victory over their Scottish counterparts last week.
Coach Phil Simmons said of his inclusion:"Stuart's been very impressive in the games this season and has a sound technique which will stand him in good stead at the higher level. He's also bowled pretty well at times and gives the squad plenty of options.
"These are two vital games as we look to build on the good start we've made as we attempt to qualify for the 2015 World Cup - two wins would put us in a fantastic position in the group, but we're well aware of just how dangerous a side Afghanistan can be. We've had some tremendous tussles with them over the past few years."
Ireland have also named their squad for the InterContinental Cup game at Rathmines on July 9-12. Kevin O'Brien will skipper a much changed Ireland in the absence of William Porterfield.
Merrion all-rounder John Anderson and teenage Instonians spinner Ben Wylie are included in the senior side for the first time. Ireland are currently top of the group on 54 points, ahead of Afghanistan in 2nd place with 37.
The squads and fixtures are as follows:
Pepsi ICC World Cricket League squad
William Porterfield (capt) (Warwickshire)
Alex Cusack (Clontarf)
George Dockrell (Somerset)
Trent Johnston (YMCA)
Ed Joyce (Middlesex)
John Mooney (North County)
Tim Murtagh (Middlesex)
Kevin O'Brien (Somerset)
Niall O'Brien (Northants)
Paul Stirling (Middlesex)
Max Sorensen (The Hills)
Stuart Thompson (Limavady)
Andrew White (Instonians)
Gary Wilson (Surrey)
ICC InterContinental Cup squad
Kevin O'Brien (capt) (Somerset)
John Anderson (Merrion)
Andrew Balbirnie (Pembroke)
Alex Cusack (Clontarf)
Trent Johnston (YMCA)
Rory McCann (Instonians)
John Mooney (North County)
Paul Stirling (Middlesex)
Max Sorensen (The Hills)
Stuart Thompson (Limavady)
Albert Van der Merwe (YMCA)
Andrew White (Instonians)
Ben Wylie (Instonians)
Ireland v Afghanistan - Pepsi ICC WCL at Castle Avenue, Clontarf - July 3 and 5 (10:45am) (reserve days July 4 and 6)
Ireland v Afghanistan- InterContinental Cup at Rathmines, Leinster - July 9-12 (11am)
Tickets are available for the Pepsi ICC World Cricket League fixtures via www.ticketmaster.ie