Jason Adam Max Molins
Born 4 December 1974 Dublin
Educated Wesley College; Dublin High School, Dublin; Dublin University; Oxford University
Occupation Investment Banker
Debut 6 June 1995 v Duchess of Norfolk's XI at Arundel
Cap Number 599
Style Right hand bat, slow medium right arm
Teams Carlisle, Railway Union, Banstead, Phoenix, Brondesbury
Jason Molins came from a talented cricketing family. Neither his father, Rodney, nor his uncle Stephen, foreshadowed Jason and his younger brother Greg in gaining Irish caps, but both were for many years outstanding figures in Leinster senior cricket. In addition Stephen's daughter Lara gained seven ODI caps for Ireland Women 1999-2001 besides playing at U21 and U23 level. None of them, however, would disagree that Jason was the outstanding cricketer of the family.
As an opening bat, he was capable of devastating stroke play, which enabled him to destroy the best attacks. Though he was said to be slow between the wickets and in the field, he was an excellent slip, but above all, perhaps, he was a tactically astute and innovative captain with the knack of making wicket taking bowling changes and successfully imaginative field placings.
It was unfortunate indeed that his Irish career should have ended in controversy, when he probably still had much to give. His abilities were clear from his schooldays - he made his senior debut for Carlisle when not quite 14 - and he was a member of the Irish Schools side v Wales at Cardiff in 1991 when still only 16.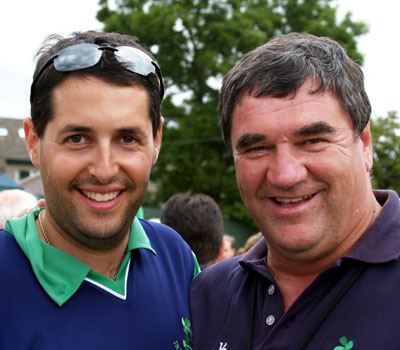 In a drawn match he opened the batting with future Irish team-mate Peter Gillespie, Jason shining in the second innings with 56 made in 155 minutes with four 4s. At youth level he was also seen to great advantage in the Bath School Foundation Tournament of 1994. He was one of the over age players Ireland were allowed to field as the Irish Schools side was on tour at the same time.
He captained the Irish team and led them to third place in the competition, proving the outstanding batsman of all those on view. He scored 308 runs at 44.00, achieving the second highest score of the tournament, described "as a quite superb 121" against the South African side HZJ. He also made 51 v Wales and narrowly missed another "ton" with 94 against the Cavaliers - a team largely composed of overseas students in English schools - which enabled Ireland to win the third place play off.
That season he also played for the Irish Universities. Having made a 48 ball 50 and an undefeated 77 v Ireland U 21, he was in the side which competed in the British Universities Tournament. Against tough opposition from London University he showed his class and forceful play with 94 at No 4. Coming with only 26 on the board he hit 10 fours, seeing the score to the respectability of 204 all out. Eventually they lost by 2 wickets.
His senior career in Leinster cricket covered 22 years, though his summer at Oxford and seasons in London cricket which followed meant that he was not ever present. Nevertheless his career record of 6479 runs at 42.35 leaves him - currently - 5th in the all time averages. He hit 14 centuries - highest 171* - and 38 fifties.
His first senior hundred, exactly that score came for Carlisle v Malahide in 1994 while he won the Marchant Cup in both 1996 and 1997, scoring 901 runs at 75.08 in the latter year. However we may focus briefly on the 2003 season, when he flew from London every weekend to play for Phoenix, forming a destructive opening partnership with Jeremy Bray.
Though Phoenix, in the end, finished second in the Senior League and lost the semi final of the Cup, the two Js rampaged around the Dublin circuit, putting opposing attacks to the sword. Usually both came off and it was a rarity indeed for both to fail.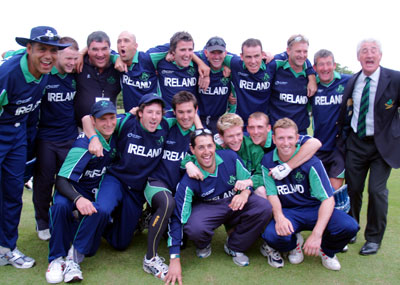 Against YMCA in April they put on 286 for the first wicket, before Bray was out for exactly three figures, Jason went on to 162* before the innings was closed at 302-2. With Alan Lewis going for 3, YM folded to 62 all out . Earlier in the season, they had destroyed the Railway Union attack at Park Avenue with a stand of 227, Jason making 141 and Bray 92!
Against North County, chasing a formidable enough 252, Bray went cheaply, but Jason savaged the bowling to reach 132 and set up a five wickets victory. He hit one other hundred that year and five 50s, one of which, against the luckless Claremont Road attack came in the first round of the Cup. Phoenix made 367-5 off their 50 overs, the swashbuckling opening pair posting 130 for the first wicket, Jason fell for 62, but the left handed Sydney sider raced to 168. This time Lewis replied in kind with a belligerent 79 but his team-mates could not stay with him and Phoenix won by 218 runs.
When available Jason continued to be a force in Leinster cricket - until it must be said the 2009 season - but he was, arguably, never quite the same consistently dominant force again.
Surprisingly for one who achieved such deeds for his club - and at a higher level - he made only a few good scores in Interprovincial or Regional Challenge matches. However he shone in the match between the Southern XI ( South Leinster and Munster) against NCU in 2002. Opening he made a typical 107 before he was caught off Paul Tate. He had put on 84 for the first wicket with Niall O'Brien. He then held three catches as the NCU faded to 81 all out. Crucially one of the catches sent back Andrew White cheaply, one of those in the northern side who could have chased the target successfully.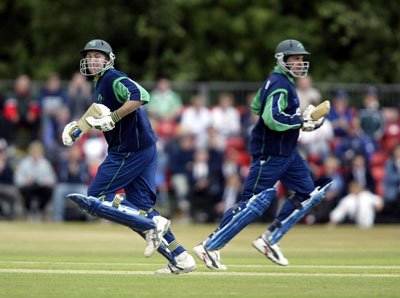 Having taken up a place at Oxford, already an established member of the Irish side, he was an automatic selection for The University XI in 1998 and one of the few batting successes of the season. Oxford played 8 first class matches, only three batsmen, including Jason, passed 250 runs. His aggregate of 268 was second only to Mark Wagh, who later had a successful career with Warwickshire and Nottinghamshire, though never quite fulfilling expectations of those who thought his elegant stroke play resembled that of his Australian near namesake.
Jason hit three first class 50s, besides a top score of 70 in a one day match with Berkshire. His best match came in a drawn game with Warwickshire when, at no 1, he made 73 and 44, falling in the first innings to the county captain England ODI leg spinner Neil Smith, son of MJK.
Jason also made a stalwart 51 against Yorkshire who had a formidable attack of Matthew Hoggard, Ryan Sidebottom and Gavin Hamilton. The future Scotland captain was then a highly regarded medium pacer, not yet affected by the yips. Sidebottom struck Jason on the wrist with a lifter which sent him off for an X Ray, but he returned to complete his half century. He also hit a half century against Oxford at Lord's, where he had, of course, already made one for Ireland.
When he took the field against Cambridge he established a record that can never be taken from him. He became the first Irish born and Irish educated Blue for either University. There had been Irish born Blues, the names of TC O'Brien and WD Hamilton come to mind, and one Irish educated one CS Marriott, but Jason is, thus far, the only one to have combined both .
After Oxford, he played a great deal of high standard club cricket in the London area, first of all for Beckenham, then for the powerful Brondesbury side in the Premier League and the Cockspur Cup. Ironically some of his best innings were played when he was, apparently, surplus to Ireland's requirements. However it was in 2005, when still his country's opening bat and captain, that he hit a superb 95 against Stanmore. Facing 130 balls and hitting fourteen 4s, he put on 135 for the first wicket with his captain left hander Tim Simpson. Amongst his other innings in 2007 were 69, against Stanmore and batting at 4, 74 against Wembley. He batted down the order to accommodate Billy Godleman, another left hander, later to play for Middlesex, and this (2010) season Essex. They put on 129 for the third wicket but, eventually, had to be content with a draw.
Before examining his international career we should note that he has participated for Great Britain and Ireland in the Maccabiah Games, the "Jewish Olympics" and that July 2008, he played in three one day matches for an Israel Select XI against India A. The Indians won with some ease against a side which was said to be made up of the World's leading Jewish cricketers, though it was captained by born again Christian - and onetime Irish cricketer - former South African batsman Jonty Rhodes. Jason, who opened the Israel batting with another former Protea batsman, Adam Bacher, and Jonty were among the very few batting successes for the "hosts." Jonty's 38 in the third match was the top score achieved for them, closely followed by Jason's 35 in the same game.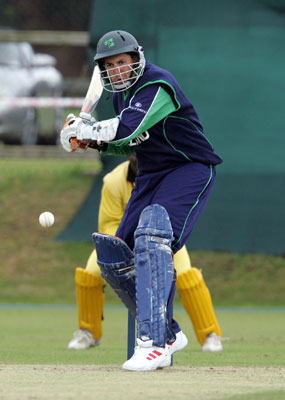 For Ireland, between 1995 and 2005, Jason played 72 matches, 41 as captain, scoring 2138 runs at 28.51. He made 49 on debut - against the Duchess of Norfolk's XI at Arundel, batting for most of the time with a runner and 53 in his last match v The Netherlands at Stormont in the Intercontinental Cup, putting on, incidentally, yet another century opening stand with Bray. It was his 13th half century for Ireland, he also hit two centuries.
The first of these had come in 2002, leading the side against England ECB XI at The Lawn in the European Championship. He already had a 50 against Denmark to his credit in the competition. England made 226-8 in their 50 overs, leaving Ireland a 4.5 runs an over chase. Wickets fell cheaply until Jason was joined by Kyle McCallan. They added 86 for the 4th but McCallan was run out. Jason was still in command, but, never very quick between the wickets, tore a muscle, diving to make his ground. With Dom Joyce as runner he went to his century and victory seemed well within Ireland's grasp. Then he was run out through no fault of his, Joyce had been standing out of his ground. Ireland finished 2 runs short, Jason had batted for 201 minutes, faced 136 balls and hit nine 4s.
His other three figure score came the following year in Ireland's famous 10 wicket win over Zimbabwe, who had unwisely rested some key players, at Stormont. After the visitors had been despatched for 182, Jason and Bray raced to a 10 wicket victory. Wisden said that they "made light of the task" though it described Bray as a 19 year old, thus reducing his age by 10 years.
Jason was the dominant partner. His 107*came from 119 balls in 135 minutes including two 6s and fourteen 4s. Three other innings may be noted from a large number of fine ones. In the ill fated ICC Trophy in Canada in 2001, he had seen Ireland to victory over Hong Kong with a 178 minute 81* to gain a victory by 8 wickets. However the tournament not go well and when Ireland faced the Netherlands they had to win to keep their World Cup qualification hopes alive. They did well to bowl the Dutch out for 215, but then, though Jason was in fine form at one end, ran into trouble losing 4 wickets for 76.
Jason and McCallan, then in his first spell of captaincy, then added 86 in 16 overs, before Jason who had dominated the attack called for an impossibly quick single and ran himself out for 93. He had played brilliantly, facing 115 balls in 148 minutes, hitting nine fours. Eventually Ireland lost by 2 runs.
On a happier note were two match winning innings in the 2004 season, when, leading by example he took Ireland to two remarkable victories. Against Surrey at Castle Avenue in an early May Cheltenham and Gloucester match, which the weather extended to two days, he won the toss inserted the visitors and saw them rack up a handy 261 off 49.5 overs with big hitting Ali Brown top scoring with 67 from 49 balls before being superbly caught by Eoin Morgan.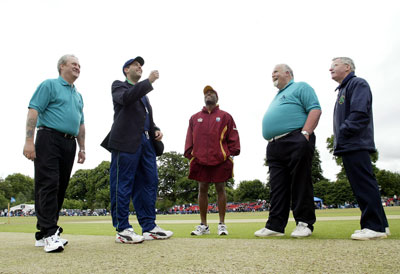 In reply Jason and Bray weighed into Surrey's England opening bowlers Martin Bicknell and Jimmy Ormrod taking 77 off 12 overs and eventually totalling 103 for the first wicket off 20.3. Good middle order batting then saw Ireland home, with overseas player Gerald Dros leading the way. Jason, dismissed by Pakistani paceman Azhar Mahmood, reached his 50 in 46 balls and all told faced 57 balls, hitting nine 4s. In the Surrey side was Mark Ramprakash who had also been in the Middlesex side which lost a Benson and Hedges match at Castle Avenue in 1997.
Later in the season Jason and Bray were at it again, this time against the West Indies at Stormont in the second of two one day matches, the tourists having won the first with ease. Winning the toss after a rain delay, the tourists raced to 292-7 off their 50 overs, but then had their opening bowlers destroyed by the two Js, who smashed their way to 111, before the first wicket fell on "Nelson."
This was Jason's, he had batted for only 68 minutes and, facing 58 balls, hit twelve 4s and one 6. Bray made 71 as Ireland went on to a five wicket victory with 4.1 overs to spare. Jason, incidentally, was bowled by Ravi Rampaul, later - in 2008 - to be Ireland's overseas player.
It was most unfortunate, but cricket being the game it is perhaps not altogether surprising, that Jason should run out of form the following season - the year that the ICC Trophy came to Ireland and, though the final was lost to Scotland World Cup qualification was gained.
His captaincy remained as astute as ever and, together with Ed Joyce's batting, had a huge share in Ireland's success. Injury forced him to miss the final, but in the whole season he averaged only 16.50 and, though he made 53 in the Intercontinental Cup match v The Netherlands at Stormont in September, was dropped from the side, the captaincy passing to Trent Johnston.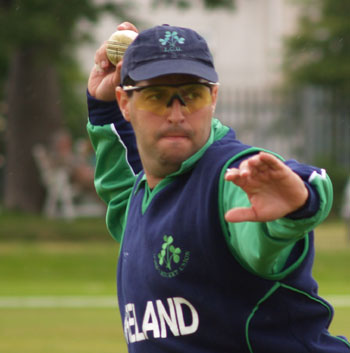 Controversy arose when he was unable to regain his place. Coach Adi Birrell was accused of operating an "Anyone but Molins" policy and there was talk of personality clashes between the two men. This was denied but it was clear that the Irish management were concerned over Jason's form and fitness, the latter had - it seems - always been an underlying worry.
Critics of the decision pointed England sticking to Nasser Hussein and Michael Vaughan as captains in times of poor form, though they, perhaps, did Jason no favours, by suggesting that fitness was not everything and quoting the example of Inzaman-ul-Haq!
Jason did captain Ireland A during 2006 but, though he played club cricket in both London and Dublin that summer and returned to live and play Ireland for the 2008 season, neither Birrell nor new coach Phil Simmons recalled him to the colours. Jason Adam Max Molins - at the time of writing - Ireland's most successful long term captain having won 63.41% of his matches in charge compared to William Porterfield's 52.78.
In addition he will always be remembered both for Ireland and for his clubs in Dublin and London, as a dominating and exciting batsman, whom, when he was in form, it was a real pleasure to watch.
He has also had a glamorous private life. In September 2009 at Marbella in Spain, he married Galway born Aoife Mulholland, who despite having first come to public notice as a defeated semi finalist in the BBC's reality TV contest "How Do You Solve a Problem Like Maria?" still greatly impressed Andrew Lloyd Webber and went on, not only to take over the lead role in The Sound of Music, but to become a leading West End Musical performer and star.
However, as she explained to one gossip columnist, "When Jason asks me if I understand cricket, I just nod. It saves a lot of time!"
He is, deservedly, profiled in Siggins and Fitzgerald "Ireland's 100 Cricket Greats.