| | |
| --- | --- |
| | |
The first Irish first-class cricketers
Ger Siggins

---
The phrase 'first-class cricket' has been bandied about quite a bit this year, with Cricket Ireland hoping that the interprovincial championship is accorded that status as an important step towards being granted Test status. It is mainly a statistical nicety, allowing players to add their names to the list of those who have played the multi-day game at the highest level below Tests and allowing comparison between eras knowing a certain standard has been attained.
We've been playing "first-class" cricket in Ireland for well over a century – Dublin University were strong enough to be granted the honour in the 1890s, and also in the 1920s when they weren't strong at all. There were also several FC games played by the professional-filled club at Woodbrook, near Bray, in the years before World War One. Ireland played their first FC game on the 1902 tour of England, and as I related recently, didn't have very many games at all until the Inter-Continental Cup came along.
The notion of 'first-class' was copper-fastened by the MCC in 1894 when it defined the status and listed the games that qualified. ICC further formalised what it was in 1947 but neither organisation suggested any retrospective granting. Over the years many statisticians – and the likes of Wisden – have attempted to define the limits, allowing meaningful stats and records to be compiled. The formation of the Association of Cricket Statisticians and Historians further redefined this, and began looking at games in the 19th century. Modern thinking holds that the first first-class played was played between Hampshire and All-England at Hambledon on 24-25 June 1772, and the likes of Cricket Archive and Cricinfo hold this as game No.1.
Exploring the scorecards of those games are fascinating, but there are few biographical details available for many of the players. However, by working through the scorecards I have identified two men who are likely to have been the very first Irish first-class cricketers, the brothers Bligh from Athboy, Co Meath, who played in game no.100.
They made their debuts on 6 August 1789, just the third season their club operated from its base at Dorset Square in Marylebone – it would take another quarter-century before it found a home at Thomas Lord's Ground. On this day MCC were playing at Hornchurch, a village near Romford in Essex, and to give it some sort of context the French Revolution had kicked off just three weeks before.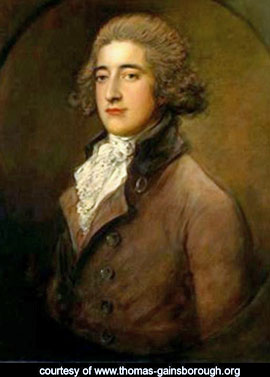 Had the revolution spirit struck in southern England, and Newgate stormed instead of the Bastille, there's a fair chance the cricketers would have been hauled off in a hay-cart, as they and many of their team-mates were of aristocratic stock – the elder, John, was already the 4th Earl of Darnley (right).
That summer was also when the most famous Bligh of all – the unrelated Captain William – suffered the infamous mutiny on HMAV Bounty.
Back in 1789, MCC lost that game in Hornchurch by six wickets, with only John's 21 from No.11 worthy of mention. The Earl played 44 more FC innings and never passed that score, ending with an average of 3.79. Edward, who later played for pre-county-club sides called Kent, Middlesex, Hampshire and Surrey, played 76 matches in his long FC career, scoring 1,311 runs.
John was an Oxford-educated lawyer, with a taste "for antient music and good modern dinners". His christening robes were sold in Dublin at auction recently for €2,800. Edward was a military man, eventually attaining the rank of general. He also served as MP for Athboy in the Irish House of Commons just before the Act of Union.
Edward's great-grandson, the 8th Earl of Darnley, had an even great role to play in cricket history – in 1882/83 Ivo Bligh captained the English tourists to Australia where he was presented with an urn by a group of Melbourne women. The verse inscribed on it begins "When Ivo goes back with the urn, the urn…" and is now played for as the greatest prize in cricket – The Ashes.
Below is a table showing the first cricketer to play first-class who was born in each of the counties of Ireland. Only five have yet to produce one: Longford, Sligo, Westmeath, Offaly and Roscommon.
There are a few things worth noting: the first Wicklow man was John Parnell, father of 'the Uncrowned King', Charles Stewart Parnell. The first from Waterford played for Australia and invented the cricket blazer.
The first two Kildare first-class cricketers have the same surname, and were both born in Carbury. They also made their debut in the same season, 1893/94. Charles Johnson played twice for the Europeans v Parsees in the Bombay Presidency tournament in August 1893, while Clement made his debut at Newlands on St Patrick's Day 1894, scoring 52 for Transvaal against Eastern Province. A former Trinity student, he later went on to play two test matches for South Africa. It is not known if Charles and Clem were brothers, but as they were just two years apart in age it may be considered a possibility.
| | | | | |
| --- | --- | --- | --- | --- |
| Debut | Born | | First-class sides | mts |
| 1789 | Meath 1769 | E Bligh | MCC, Kent, Middlesex, Hampshire, Surrey | 76 |
| 1789 | (Ireland) 1767 | J Bligh | MCC, Kent, Old Etonians | 24 |
| 1795 | Antrim 1777 | AP Upton | MCC, Gentlemen, Middlesex | 36 |
| 1797 | Cork 1768 | HW Marten | Surrey, England | 7 |
| 1822 | Kilkenny 1804 | T Stevenson | Cambridge Univ | 1 |
| 1829 | Mayo 1797 | Sir T Ormsby | Married | 1 |
| 1831 | Wicklow 1811 | JH Parnell | Cambridge Univ | 1 |
| 1834 | Carlow 1814 | W Kavanagh | Cambridge Univ, MCC | 3 |
| 1836 | Down 1814 | J Leslie | MCC, Oxford Univ | 2 |
| 1837 | (Ireland) 1817 | A Coote | Oxford Univ, Gentlemen | 12 |
| 1841 | Dublin 1820 | JBR Bulwer | Cambridge Univ, MCC | 7 |
| 1841 | Monaghan 1821 | CP Leslie | Oxford Univ | 1 |
| 1851 | Fermanagh 1826 | AM Archdall | Gentlemen of Kent | 1 |
| 1857/8 | Galway 1833 | RW Power | Victoria | 2 |
| 1863 | Donegal 1842 | H Maturin | Middlesex, Hampshire, Gentlemen of the South | 12 |
| 1863/4 | Waterford 1844 | TJD Kelly | Victoria, Australia | 16 |
| 1869 | Louth 1849 | CR Filgate | Gloucestershire | 25 |
| 1872 | Armagh 1851 | JCK Fox | Glouc­estershire | 2 |
| 1873 | Clare 1842 | M Flanagan | Middlesex | 18 |
| 1873 | Derry 1845 | RJC Young | MCC | 1 |
| 1879 | Cavan 1859 | AWB Sclater | Sussex | 9 |
| 1881/2 | Kerry 1864 | J Lawlor | Victoria | 3 |
| 1888 | Tipperary 1859 | J Usher | Yorkshire | 1 |
| 1893/4 | Kildare 1869 | CD Johnson | Bombay Europeans | 2 |
| 1893/4 | Kildare 1871 | CL Johnson | Transvaal, South Africa | 4 |
| 1903/4 | Leitrim 1871 | HPL Gaussen | Hawkes Bay; MCC | 11 |
| 1908 | Wexford 1880 | WH Napper | Ireland | 5 |
| 1911 | Tyrone 1891 | RA Lloyd | Lancashire | 6 |
| 1921 | Laois 1896 | GN Brownrigg | Sussex | 3 |
| 1946 | Limerick 1917 | PHP Waldron | Ireland | 4 |