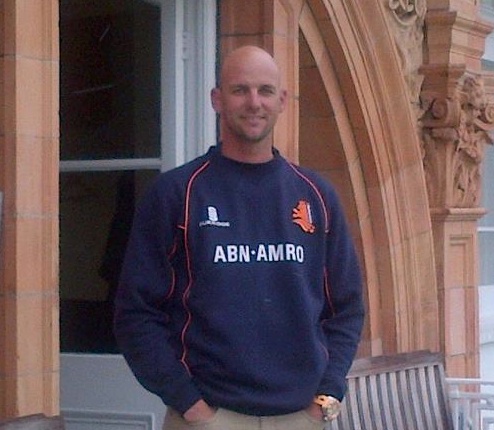 Having taken over the reins from former Dutch coach Peter Drinnen, Anton Roux, in his role as Acting Interim Head Coach, has led the team to notable successes at the 2014 T20 World Cup. Roux began his playing career in his native South Africa for Northerns (affiliate to the Titans franchise). He played for ACC in 2005 and 2006 as player-coach. He was then head coach of the Northerns Cricket Academy and the Tuks Cricket Academy at the University of Pretoria. In 2011, he was appointed head coach of KwaZulu Natal Inland, a first-class side in South Africa best known for producing Jonty Rhodes, David Miller and Kevin Pietersen. He was brought back to the Netherlands as coach of ACC in 2011. He served as Drinnenís assistant since mid 2011. Having lost ODI status earlier this year, Roux talks to Cricket Europe about his vision for the national team and the North Sea Pro-Series.
Q. I read that you were born in the USA. Did you spend a lot of time there?
A. I think we moved back to South Africa in 1986, so five years in the USA and I have one memory of it and the rest I honestly canít remember anything else about it.
Q. Where and when did you first pick-up cricket?
A. I suppose living in South Africa, cricket is a very, very well known sport there so you get sort of... not forced to play but you know people play it at school and games in breaks but I was a football player actually. I played representative football for a long period of time. I only started playing cricket when I was 11 or 12 years old. One of my friends told me to come down to training one day and I first played for the under-12 C team and eventually moved my way up. Then I had to choose when I went to high school I got a football scholarship and then the day that school started the cricket coach from another high school phoned my parents and said he has to come here (Pretoria Boys High) for cricket.
Q. You began your first class career at the age of 26, was it always an ambition of yours to play professionally?
A. I played a lot of representative games for Northerns when it wasnít classed as first-class. Of course I have always wanted to be part of a professional system and when I came back from New Zealand in 2000, I got my way into the franchise academy side. I was involved in pre-season squads but never kicked on to the franchise team.
Q. When did you decide to stop playing and channel your efforts towards coaching?
A. See the way that it works at the Titans, which is a franchise, is that the B-side is called the Northerns. So you had your franchise players under contract and then you had a bit of an overlap between the guys who werenít picked for the franchise first XI, who also played B-side cricket, and the rest of the guys how they tried to keep it professional was to get them coaching jobs in and around some of the clubs in Pretoria. So basically my cricket contract was paid through a coaching position at the University of Pretoria, and during my last game vs Namibia I called it a day. and focussed purely on my coaching career.
Q. You were brought to ACC primarily as a non-playing coach in your second stint; although we did see you feature in some games. As a cricketer with first class experience, how do you assess the level of cricket in the Netherlands?
A. Itís a bit of a tough one. You know a lot of emphasis gets placed by players on the facilities. So I think a lot of players, speaking from an overseas professional point of view, come over and get a bit of a negative impression because of the matting and that sort of stuff but to me it is quite a bit of a challenge because it levels out the playing field and I think in 2011 you were allowed three or four overseas professionals, which some clubs got and that made it very competitive. So in some ways it is a little bit sub-standard in terms of if your mind-set is like that about facilities but for me on the other side, I think it is great because the playing field is so equal.
Q. How did you become involved with the national team?
A. I always wanted to help the national team as I felt I had something to offer so as soon as I got into Holland I got hold of the coach Peter Drinnen and said look I am willing to lend a hand wherever needed, I just want to be involved and help the system as much as I can because I am very passionate about Dutch cricket.
Q. Was it an ambition of yours to become head coach at some point in your career?
A. I donít think so. Of course as a player you always strive to become part of the starting XI but from a coaching point of view, in my mind anyway, I donít think you should think of that. It should be focussing on coaching the people that you coach. So if you can forward their game or make them a better person at the end of the day whether you are head coach, assistant coach, batting coach it doesnít really matter as long as you are fulfilling some sort of role in bettering that player then great. But actually come here and hoping to become head coach, no I never thought of that.
Q. How have you liked the first few months in the hotseat?
A. It is completely different to assistant coach, I can tell you that. I donít think there are any things that can really prepare you for it. There are a lot more things that you get on your plate and a lot more things you have to deal with behind the scenes. Unfortunately for me I am the kind of person who wants to take his shirt off and get dirty in the nets and throw balls but from a head coaching point of view you donít have time for that. I still do it of course, but not so much as I would like. You have to deal with a lot more admin, a lot more personal relationships. But thoroughly enjoying it. I love it, absolutely love it.
Q. How have your responsibilities changed with your promotion from assistant coach to Acting Interim Head Coach?
A. Obviously now you get judged a lot more on your performances. When you are an assistant you arenít in the hotseat. Now youíre in it, you win with the guys and lose with the guys. Some people love pressure others donít, its all about how you deal with it, and if you donít then I suggest you donít become a Head Coach. Itís a lonely job at times, and you have to be prepared for that.
Q. As a young coach, you are probably learning as you go along, but what have been the biggest challenges you have faced?
A. Being put on the world stage in front of billions of viewers thatís a massive challenge on its own but for me personally itís the inner demons. As you mention I am a young coach, there wasnít one coach in the World Cup that was younger than 40 I think. I was the youngest by a mile. You sit alone in your hotel room and start thinking about all kinds of stuff. That for me is what is tough. You donít need to have a lot of experience to coach you just have to be able to handle the pressure and be confident. A good support structure is vital, and thatís where family comes in. I just try stick to what I know is going to work, regardless of what the doubters say.
Q. Your tenure started off in the worst possible fashion. What can you tell us of your experiences in New Zealand?
A. One thing I can say is that whatever happens off the field definitely comes onto field, because we are all human at the end of the day, it's natural. This is where I have massive respect for Drinnen, he managed to keep the ship together and sort out things that were away from our eyes and ears. Those first few trips were always going to be rocky. I think we did extremely well in Dubai to qualify in the first place. You donít hear of a lot of teams in cricket, being successful, where you lose your head coach two weeks before two major international qualifying tournaments. Your backís up against the wall and it is all about how the players respond. The writing was sort of on the wall and I am sure people werenít expecting us to do too well in Dubai but we managed to qualify after a season in which the Dutch cricket calendar was the busiest ever. Because our squad is not the biggest I had to I give some rest. I felt that we were peaking at the right time in New Zealand and I think the players believed that as well, but it was just one of those freakish games against Kenya where everything just went against us in the bowling department. One game led to us losing our ODI status, which seems a little unfair but I suppose thatís sport.
Q. The Dutch side bounced back very quickly though and managed to perform well throughout the 2014 T20 World Cup, how were you able to engineer this change in fortune?
A. From the outset one of the main things I tried to facilitate is give a lot more ownership to the players. Youíve got guys like Peter Borren and Seelaar and Baressi, guys who have played a lot of international cricket and they know what they are doing. So I allowed Borren as captain a lot more freedom than he was probably allowed in the past. All I can do as a coach is facilitate an environment where guys are happy, enjoying each otherís company, learning and working hard but once they are on the field you canít do much. Players have to take responsibility on the field and I think they took the chance with both hands. The players deserve all the credit, and itís just a shame that the small cricketing country that Holland is, doesnít quite recognise what we actually achieved.
Q. Have you noticed a change in the teamís mentality having strongly challenged the best teams in the world?
A. I consider myself to be an ardent student of the game. and have seen a lot of cricketers in my time as Coach, and so I wouldnít tell my players anything different if I didnít believe that they are able to not only perform but also compete at the highest level. It is about giving them the belief to be able to go and do it on a big stage. Every single guy in this team has got the ability to do it, so it is not as if we are in over our heads so to speak. We gave a lot of teams a good run for their money. The nice thing there is that after the games people would come up to us and literally shake your hand and say, ďwell played boys. You deserve being hereĒ. Thatís one thing that our guys wanted to do, they wanted to earn respect. I think they did that. The thing about the Dutch team and one of the things that we would like to change within the national setup and I suppose it filters down, is the consistency. The guys know they can play, they know they can play great cricket when they want to. But we have all seen as Dutch supporters that we can also play pretty ordinary cricket on a particular day. We showed in this tournament that we can be consistent, and that is a great sign on which to move forward on.
Q. It is said that at the highest level the key objective of coaches is to get players in the right frame of mind as well as improving their techniques. Do you agree?
A. Yes like I said earlier one of the biggest differences I notice between assistant coach and head coach is as assistant coach you had a lot more time on your hands to work with individual players but as head coach you need to oversee a lot of things. All I focus on is creating an environment where guys; number 1 learn and lean on my shoulder for technical help if need be and secondly where guys feel at ease with their game and knowing that their coach backs them 100%.
Q. Both you and team captain, Peter Borren, are known for your tactical acumen, how have you experienced working together?
A. I first met Pete when I came over as a player. Since I came back to Amsterdam in 2011 with the VRA-ACC rivalry, I think we have a lot of respect for one another. I know what his strengths are and vice versa. We dovetail quite nicely in a golfing sense. We are both avid golfers as well! I do a lot of work late at night going through film and working out a game plans for specific batsmen and that sort of thing and I generally write it down on a piece of paper and give it to Pete. He then scans through it and he either keeps it in his pocket or he banks on it. We have worked out a nice way with how to deal with it. Our team is not a team where you bring them in together and watch a video for an hour and a half and say this is how we are going to get Stuart Broad out or Eoin Morgan out or letís not bowl to ABís cover drives. Our team doesnít like that so what Iíve done is it is just me and Pete and we talk about tactics. Short, sharp, concise team meetings, with clear outcomes and goals is what we have brought in. Sometimes I will bring bowlers into my room for a quick meeting and we will have a scan through stuff if we want to look at specifics to a batter.
Q. The T20 World Cup also saw Roland Lefebvre named as High Performance Manager, what does this entail and how were your experiences?
A. Peter Drinnen used to be both the coach and High Performance Manager. Rolly is a great guy and I get along very well with him. I think a lot of the High Performance Manager stuff gets done behind the scenes. It is sorting out playerís affairs, but also the way I see it, smoothing the relationship between national team and clubs.
Q. Having lost ODI status, the Dutch are unlikely to play too much cricket this summer. This brings us to the North Sea Pro-Series, which feature two regional teams from Scotland and the Netherlands who compete in both a 20-over and a 50-over competition, what are your aims from this series?
A. Even with losing our ODI status if I show you our programme it is quite busy until July. Lost ODI status doesnít mean we play less cricket, our guys are still playing a lot of cricket. I donít think we lost much in terms of cricket time but maybe opposition and thatís whatís nice about the Pro-series. We have made it up there because the quality of opposition in the Pro-series is a lot better than if we were just playing club cricket.
You play sport to win but we are going through a stage where things are uncertain from KNCB and ICC perspective. Pro-series is a perfect platform for players who have aspirations to play for the national team, and gives the younger players a stepping-stone to get to the national team. It is a great opportunity for me to give opportunities to players who might not get that if the Pro-series wasnít here. So for instance what happened this weekend with Sebastiaan Braat, and SA Zulfiqar, going out there scoring runs and taking wickets at this level is just awesome. Youíd struggle to know if they were capable of that by just playing for his club team, this is just another platform for him to do that. which is exactly the role that I see the Pro-series performing. One thing I said to the guys before the Pro-series started is that I want to build match winners. If we are in a position to win a match then win it. Pro-series is another opportunity for those guys to do it against better opposition on grass wickets, because you are not always going to play on grass in the Topklasse. It is mostly focussed on (the core players of the national set up) as well as younger players who havenít had the opportunity to be close to the national setup.
Q. The series has not begun all that well for the Dutch teams but do you see experience as being more important than the results?
A. Of course you want to go out there and win but for me it is more the sense of, if you are in the position to win then I want to see guys go big. This weekend, I can only speak from the South perspective we didnít bowl or field particularly well in the T20 game but we bounced back nicely and put in a good performance, especially lower down with guys scoring when runs were needed. Now that scenario is way more important than the result because so many times what I see in club cricket and in the national setup is that when those heated moments arrive more times we tend to be on the losing end than the winning end. It is about getting into the winnings positions and then actually going on to win it.
Q. What kind of players can we expect to see throughout this series?
A. Core of national players and having a look at younger players who havenít had the exposure at that level like the Zulfiqars for example, and a guy like Braat who has been in and around the national team but he hasnít really played. From my point point of view I put a lot of emphasis on the Pro-series, as well as club cricket.
Q. Will you be rotating the squads in order to get a better look at more players?
A. I wish it could be the same teams every weekend in order to create some sort of consistency, but bear in mind that a lot of guys study or work so you have to try work around that. So you might find that one week against the next week you have a change of 5 players. It could chop and change a lot due to circumstances but ultimately moving forward you want to try and get a solid squad of 15 players and out of that try and build team identity and get closer to a settled team.
Q. How do you envision the way forward for the national team?
A. We have a lot of plans and visions as a team, and are waiting for the go ahead to start our mission. Make no mistake the Bangladesh success was awesome and well deserved but the New Zealand stuff it hurt us, not only in a financial sense, but more from an individual cricketer side of it. We want to get back to where we were. That is our first goal to get back to World Cricket League Division 1 and then we can take it from there.