| | |
| --- | --- |
| | |
North West Women's Cricket 2015
Donemana and Strabane Ladies win titles
Rachel McBrine

---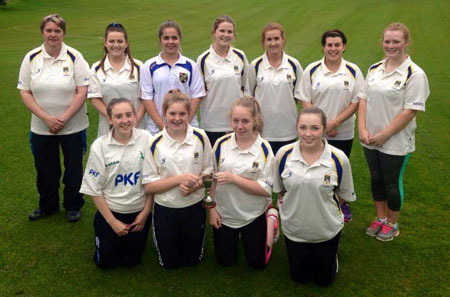 This week we saw the end of the Ladies 2015 season.
The season ended with a league B title decider between Killyclooney and local rivals Donemana. Due to lighting conditions the two teams decided on a 10 over game to get a result.
Batting first Killyclooney got off to a great start with Ashley Lynch (3) and Jacqueline Hall (10) putting on a partnership worth 15 runs.
After Lynch was dismissed in the third over the home side became more unsettled after losing 5 more wickets in just 4 overs due to the fantastic spells of bowling from Angel Laird (2-3 off 2) and Janeen Thompson (3-9 off 2)
Charlene Dougherty (20) then helped Killyclooney in the last 6 overs gain a final total of 40 for 7 off 10 overs.
In response Donemana got of to a confident start with openers, Zoe Scott (22*) and Leanne Olphert (13*) putting on a partnership worth … The pair then went on achieving the final runs in just 7 overs allowing Donemana gain a excellent 10 Wicket victory and also win the Ladies Secondary Shield.
Speaking to CricketEurope at the beginning of the week, Donemana's Captain Gemma Scott said: ''I am so proud of my team on winning the ladies shield. They are a great bunch of girls who have improved their game massively this year as last year we were bottom of the league. I hope in the 2016 season we can keep up the great work and go on to achieve bigger and better things.''
Also this week, Strabane Saints were presented with the Ladies League cup in addition to the Ladies cup they won in August.
The Saints ladies have remained unbeaten throughout the 2015 season in both league and cup competitions. As this has only been their second season playing, it is a fantastic achievement for the club and shows how much hard work and dedication they have for the sport.
Speaking to CricketEurope Strabane Saints captain, Hazel Magee said :"I am extremely proud of my team on winning the two major ladies cups. It is a massive achievement for us and it shows all the hard work and effort my girls and all of the coaches have put into the game this year. I hope in the 2016 season we can keep up the effort and make it two years in a row and hold on to both titles."
Have you any comment to make on any aspect of this article? What are your views on any of the opinions expressed in it? Have your say on the
CricketEurope Ireland Forum
.