| | |
| --- | --- |
| | |
Irish Women's Cricket 2016
Tice blow for Ireland
CricketEurope

---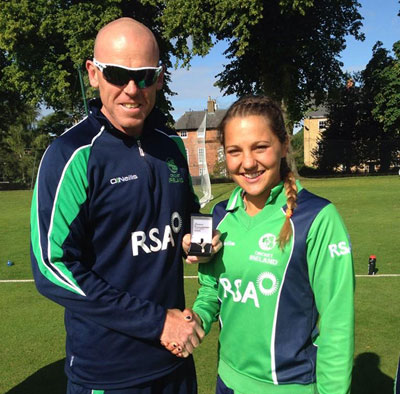 There was a blow for the women's game this week with the news that Merrion and Ireland leg spinner Elena Tice revealed she plans to concentrate on her hockey career and put cricket firmly on the back burner.
In an interview with the Irish Times the 18 year-old told interviewer Mary Hannigan that her immediate future would be with hockey rather than cricket.
"I donít think itís viable to continue the two of them, itís a tough thing to say but I think Iím steering in the direction of hockey at this point. I never expected to play senior international hockey before I was 18, itís the last thing I ever thought would happen.
"With hockey Iíve had to work really hard on things, so it just felt like all that hard work had paid off. There are a lot of exciting things down the line, the World League and trying to qualify for the World Cup and eventually the Olympics. And you have to start working for all that now. So thatís where I am at the moment."
The dual international made her cricketing debut at just 13 - the second youngest in world cricket at that time.
Since then she has played 58 times for Ireland (15th on the all-time list), taking 44 wickets, and played in the 2014 T20 World World Cup.
She decided to take a year out from cricket following the Australia series last summer to concentrate on her final year of studies and her hockey career. The Loreto player was duly rewarded with a senior hockey cap at just 17 and is predicted for a big future in the game.
Hockey's gain seems to cricket's loss.