| | |
| --- | --- |
| | |
Irish Women's Cricket 2016
Rebirth of Trinity Ladies Cricket
Sarah Ledden (University Times)

---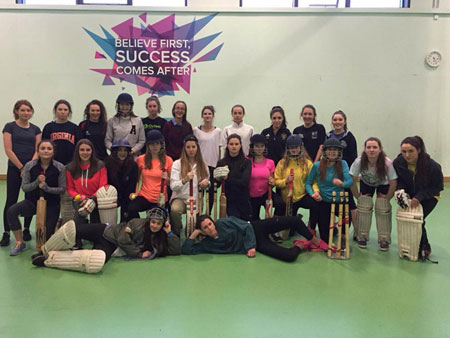 As the 1916 centenary draws ever closer, a rising of a different kind has been silently brewing in one of Trinity's under-represented sports. It began when almost two hundred Trinity women were added to the "Ladies Who Cricket" closed Facebook group, prompting raised eyebrows and entertaining reactions, such as one brave soul who announced to the group "hello this is a mistake. I have never cricketed before in my life".
Then came a proposed Calvin Klein sponsorship deal, which may have been noticed by people outside of the group when the images of the cricket girls' faces photoshopped onto the bodies of Calvin Klein models were leaked beyond the group into mainstream social media.
As curiosity and interest in the club increased, the masterminds behind the near-viral campaign, second year BESS students, Ciara Sexton and Rachel O'Brien, assured the members that the online banter would move to the cricket pitch and, thus, a new era of Trinity Cricket was born.
Sexton and O'Brien sat down with The University Times to talk about the waves they've been making online and on the ground to reform and revolutionise Trinity Cricket. For O'Brien and Sexton, their ultimate goal this year, and the primary incentive behind their social media hype, is to raise the profile of Trinity Cricket on campus and encourage more people to get involved.
Sexton started playing with the club through a friend last year, not knowing anything about the club before: "I never knew it existed. I didn't even know that there was a cricket club. One of the girls told me about it and I said I'd try it out. I played one match and then I roped Rachel in as well. But that was it, there was only one or two matches."
After making her unprecedented debut for Trinity Cricket, ironically due to there being shortage of available players, O'Brien was surprised at how enjoyable the experience was and how a lack of interest hindered the development of the club, with many games forfeited as Trinity were unable to field a team: "We only went to the one match. I think there were eight matches last year and we could only field a team for three. So we were, kind of, like, this could totally be something fun if everyone actually came. Because it is ideal, we have all of our matches at the Pav and it would be very good if people came, but they just didn't have the numbers."
When it came around to electing the new cricket committee for the incoming year, Sexton and O'Brien put themselves forward as club secretary and treasurer, respectively. At first they were a little cautious to go for such daring positions having played only one game of cricket, but reflecting on the decision, O'Brien and Sexton laughed admitting that "nobody was even going for it. Nobody was even thinking about the cricket club at all".
With Leinster cricket player, Mariyah Janjua, taking the hem as club captain, O'Brien and Sexton opened nominations for all other committee positions through the "Ladies Who Cricket" Facebook group. Sexton told the group that deciding who would get a committee position was "as tough as the choice between hand cut fries or skinny fries in Bunsen on a cold Friday afternoon" before revealing possibly the most extended committee in the history of Trinity Sport, featuring a food and drink officer, a welfare officer, a librarian, a fashion officer, a designated bench warmer, a bat (a position allocated to current TCDSU Ents Officer, Katie Cogan) and an official camóg (represented by TCDSU Ents Officer-elect, Katie Browne).
Sexton and O'Brien agreed that granting people their desired committee position, no matter how unorthodox, would increase their interest in the club and likelihood to get involved, and have found that many are taking their role in the club very seriously. Their social secretary, Jenny O'Kelly, is busy making grandeur plans for the Cricket Ball, 1st year recruitment officer, Jenny Monks O'Byrne, has been reaching out to freshers about joining the club, and even the unique position of radio officer, Tillie Keogh, has been active, securing Sexton and O'Brien a cameo on her Trinity FM radio show.
O'Brien and Sexton invested a lot of time and energy into their online campaigns in the "Ladies Who Cricket" group and their WicketWitches Instagram account to get people interested and talking about the cricket club and make its presence known, arguing that since there is often no stand at freshers' week, without social media people might never learn about the cricket club.
They also want to challenge any pre-existing stereotypes about cricket by making it seem more appealing and fun, as a sport that anybody can do. "We're trying to make it seem like something fun", O'Brien explains. "I think there is a stereotype for cricket that it is just a boring sport where you go and stand and do nothing. It can be very fun, you're hanging out with your friends."
She also acknowledges that the sport caters to more casual players. She says: "You don't have to be very committed to it, everyone can come and catch and throw a ball. It's not something you need to have done before so people were keen to get involved", O'Brien explains. Referring to their Calvin Klein promotional campaign, O'Brien laughs that "I think what this group is is just a group of girls that take a joke very far. Me and Ciara were just going to do our own, and I came home and Ciara had messaged me, like, twelve of the whole committee, and people were messaging, like, 'Hey, can I be in the Calvin Klein campaign?'"
They both admit that it can be hard to keep up with the demand for their photoshop and creativity on the cricket page, but they are busy scheming their next big plan to keep their eager fans happy. With their first training session last Monday came an opportunity to see if their campaigning had actually encouraged people to wear their whites and get involved.
Sexton and O'Brien were delighted with the session, with almost thirty girls turning up. Training takes place in the Sports Centre on Mondays from 4-5pm and Thursdays 4.30-5.30pm, and though O'Brien admits that the times might be difficult for some students due to lecture clashes, limited options available in the Sports Centre had their hands tied. While there was a certain amount of improv at the first session, thanks to Izzy Tinsley who could teach the girls the basics of cricket and devise some training exercises,
Trinity Cricket have a very experienced coach on board in Amy Johanna Kenealy, an Irish International player who is currently training for the Cricket World Cup in India. According to O'Brien, even Kenealy, who has been involved with Trinity Cricket for a number of years, has sensed that there is something different about the club this year. When Kenealy is unavailable, members from the men's team have volunteered to coach.
O'Brien and Sexton are poor examples of unsporty people picking up a new trade, as O'Brien is a Trinity Sports Scholar for hockey and vice-captain of the U-21 Leinster hockey squad, while Sexton has represented Trinity in a number of sports including soccer, Gaelic football and basketball, in addition to cricket. Despite this, O'Brien is adamant that cricket is a sport for anyone, emphasising a point she often makes in her replies to comments on the Facebook group "that cricket is not all about bat and ball, but about fun for all".
This is most clear when she says "I think the best thing about the cricket club is that you genuinely don't need to be very sporty. It's just throwing and catching at the end of the day, it's not a skill you need to have practiced for a while". Sexton explains that batting and bowling require a little more practice and once the coaching arrangements are organised these will develop, but that there are other outfield positions that don't require those skills.
"We want to build a club more than a team", O'Brien states, and Sexton believes the word of mouth has been vital in the growth of the club so far. The club are negotiating their funding situation with DUCAC, and feel their strong numbers at training will help DUCAC see there is genuine interest in a cricket club this year and the necessary finances will be covered.
The club is currently borrowing their bats, balls and other equipment from the men's team. The league games don't begin until April, and as Trinity Cricket play in a club league, and not just against other colleges, they have arranged to only play home fixtures for double points to make the games more accessible for students who don't have to worry about travelling, especially as the games often fall during the Trinity term study weeks and exam period.
O'Brien thinks this may be responsible for the lack of numbers in previous years, but Sexton argues that cricket was a great escape for her during the exams last year. With huge interest generating in the club through their media presence, a dramatic rise in numbers at training, and great intentions for the Cricket Ball, this looks to be a very exciting year for Trinity Cricket.
Any eager fans of their social media, and anyone familiar with their slogan #wearyourwhites, will be extremely disappointed to learn O'Brien ended the conversation with the shocking revelation that "we actually wear black".
This article by Sarah Ledden first appeared in the University Times and is reproduced by kind permission of the author.