CricketEurope
◊
Ireland
◊
Jersey
◊
Netherlands
◊
Scotland
◊
NCU
◊
NWCU
◊
Leinster
◊
MOBILE



Topklasse 2016
Topklasse StatsZone
All the detailed scorecards, comprehensive player statistics and best performances of the season so far.
Tournament Coverage 2016
Support CE Netherlands
Please consider contributing to CricketEurope Netherlands to enable us to continue fulfilling our important role in promoting Dutch Cricket.


CricketEurope Mobile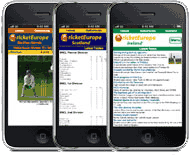 Our smartphone coverage for Ireland, Scotland, The Netherlands and Jersey includes live coverage, news, photographs, results, scorecards, and lots more!
www.cricketeurope.mobi

Contact CricketEurope

Privacy Policy
© CricketEurope 2016