| | |
| --- | --- |
| | |
John Mooney to help Denmark
CricketEurope

---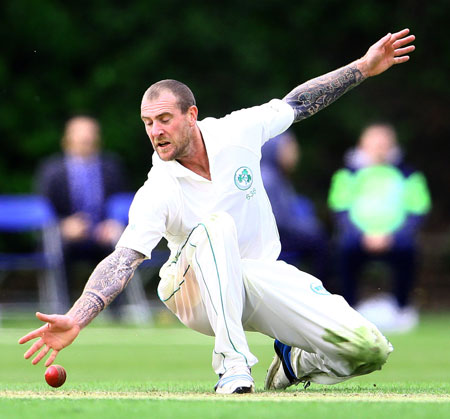 John Mooney will join up with former Irish team-mate Jeremy Bray to help the Denmark national team prepare for the season ahead.
The Balbriggan and Irish international will work as a fielding coach on a short-term deal ahead of the forthcoming season.
The 34 year-old retired from Irish cricket last month and played in the recent Masters tournament in the UAE.
During his 15 year career in the green of Ireland, Mooney became regarded as one of the best fielders in the game, and it is this expertise that Jeremy Bray, the National Coach of Denmark, is looking to tap into to.
"Fielding is an area right across the national sides in Denmark that needs to improve. More so game awareness," said Bray. "We are lucky in Denmark that we do have a lot of athletic guys that move well and have strong throwing arms,but due to the lack of high level cricket right across the board in Denmark the intensity and awareness of high quality fielding is lacking to a certain degree."
"It doesn't help also that the outfields in Denmark are not of a high standard, so diving and good anticipation is not a natural thing for most guys over here. John along with William Porterfield are two of the best all-round fielders Ireland have produced."
The pair had worked previously together when Bray was coach of Ireland Women, and he was keen to re-establish that relationship. If the short-term deal goes well, and funding allows, it may be the start of something more formal and permanent.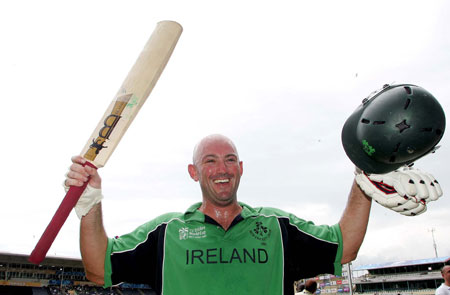 "Being good mates with John and having got him on board with the Irish ladies for some sessions, I wanted to avail of his services again. I have no doubt he will bring great value to the set-up here and the guys he works with,will definitely be the better for his visit. If all goes well I am confident there will be more work for John within the Danish setup as a specialist fielding coach."
Mooney's worked with Jonty Rhodes during the Masters event this month in the UAE, and Bray is hopeful that some of the knowledge gained from one of, if not the greatest, fielders the world has produced will reap benefits.
"John has been fortunate to be rubbing shoulders with arguably the greatest fielder of all time -Jonty Rhodes at the Masters Champions league. So I am sure he will be bringing back with him some great tips and drills to add to his bag of tricks from being with Jonty."
Bray revealed that Danes were hoping to play some matches against Ireland A this April, but were still awaiting official confirmation from Cricket Ireland. Denmark played Ireland U19 and Leinster on a T20 tour in 2015.
"We are looking to come to Ireland in April to play some fixtures against Ireland A, however we are still waiting for confirmation on this. If not we will be linking up with the Hills CC where we will be playing some local fixtures against the Hills and hopefully a Fingal or Leinster X1."
It promises to be an exciting 2016 for Denmark, with the World Cricket League Division Four tournament looming large on the horizon.
"The national side has a tour to Holland mid-summer and we're also hoping to play Essex 2nd X1 in August . In October/November we have our big ICC Division 4 qualifiers to hopefully get promoted to Division 3."
Have you any comment to make on any aspect of this article? What are your views on any of the opinions expressed in it? Have your say on the
CricketEurope Ireland Forum
.