| | |
| --- | --- |
| | |
World Twenty20, India 2016
Porterfield in fine form as Ireland buck the trend
CricketEurope

---
Porterfield Finds Form as Ireland Buck Trend and Start Well in World T20 Warm Up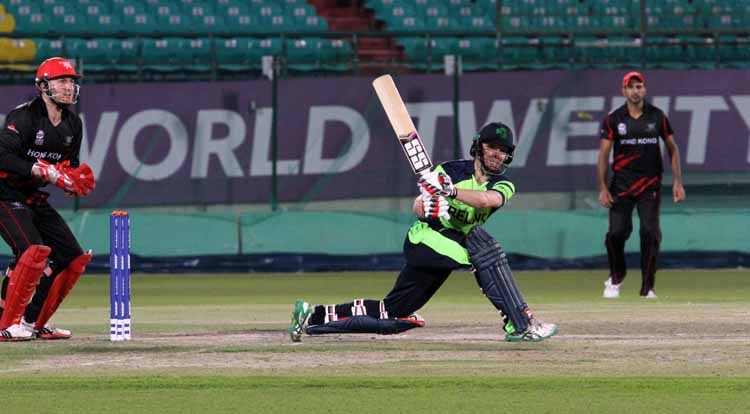 Ireland's Skipper was at his imperious best today as Ireland having bowled and fielded excellently to restrict Hong Kong to 120, easily chased down the score without losing a wicket with 46 balls to spare.
Ireland are normally slow starters in major competitions, but today they showed the benefit of being together for a long time.
Today being their seventh T20 match in a short period. Porterfield 75 not out and and new opening partner Andrew Balbirnie 47 not out gave Ireland the perfect start in the warm up games to the tournament proper.
Barry Chambers: William that was a pretty emphatic victory, ten wickets, you couldn't ask for much more?
William Porterfield: Yeah it was a pretty good win. The biggest thing was to get a game under our belts here and get a little bit of experience playing at the ground. So a good effort with the ball to start with, I think, on that pitch to restrict them to 120. Now it took us a little bit to get going, but once we got going it became a lot easier.
So all credit to `Bali' (Andrew Balbirnie). And it was a pretty good all round performance. And in the field, I thought we were very good.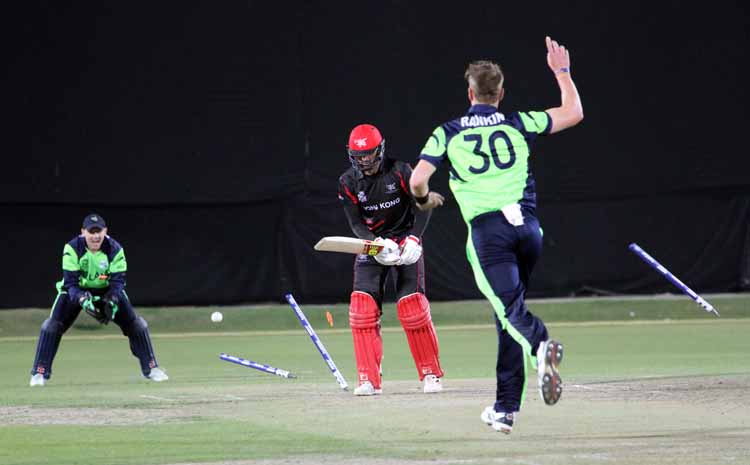 Barry Chambers: And obviously talking about the fielding, Gary Wilson just got Ireland off to a perfect start, a fantastic catch in the first over.
William Porterfield: It was a great catch, diving one handed, first slip or second slip, it was a great catch. And that started it off. And `Thommo' (Stuart Thompson) his run out there was a great bit of athleticism in his follow through to dive and pick it up and hit the stumps down at the bowlers end. So that was a great effort from him. And I think all round we were pretty sharp . We've just go to maintain that and keep looking to improve.
Barry Chambers: What do you think of the conditions here? A magnificent looking ground. How did the pitch play, not your typical Indian pitch was it?
William Porterfield: No look, I'm not sure how it's going to differ between now in these Warm Up Games and the Competition. It's the back end of their season. It's a little bit bare in patches on the square. So it all depends on what we come up with. But all we can do is watch these next few games, and obviously we're playing two of them, and assess it from there. Really I think they may be similar, they may look slightly different come next Wednesday.
Barry Chambers: And how big an advantage is it to play all your games here including the warm-ups, no moving about, you're just in Dharamsala?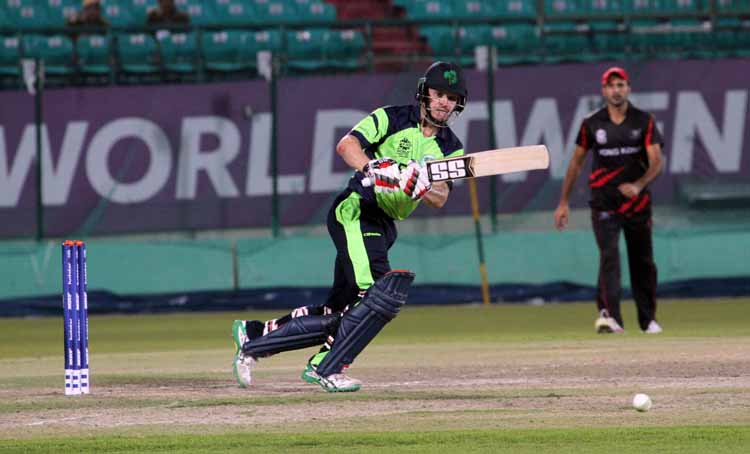 William Porterfield: Ah look I think it is nice obviously just even to get here under the lights, and get a game in. Two of our competition games are under lights. There's just various things like that. It is nice to do. But it doesn't really count for anything, unless you put in the performances with bat and ball. We've got to still front up come Wednesday.
Barry Chambers: I think you today showed the value of the first six overs, take early wickets and score runs when you're batting?
William Porterfield: Yeah obviously we were probably just steady away with the first six with the bat. Obviously with the ball I think they were four down may be three down at least in that power play, which is great. And wickets is the easiest way to restrict them in this form. It's a bit of an old cliché but it's true as well. And we continued to do that and had them, was it five down at half way or so. It makes a big difference coming down the back end. So the boys have had that mindset over the last couple of months. And if they can keep that going into the competition and take those early wickets, it makes life a lot easier.
Barry Chambers: It must be unusual, we're usually slow starters, but we've hit the ground running here. Has it helped that you've been away for a few months playing cricket?
William Porterfield: Yeah most definitely. I think some of the training sessions we've had since we've been here have been tough. We've had a couple of double sessions. We've had three in the middle with difference scenarios, which I think has been great. And it has spread belief throughout the side.
So I think that's been fantastic, and obviously being away, this is our seventh T20 before our first game We've obviously got Zimbabwe now in two days. But that will be great to have played eight games building up to the competition as well, and time in the middle with bat and ball is key.