| | |
| --- | --- |
| | |
World Twenty20, India 2016
Passage to India (1)
Barry Chambers

---
Passage to India (1)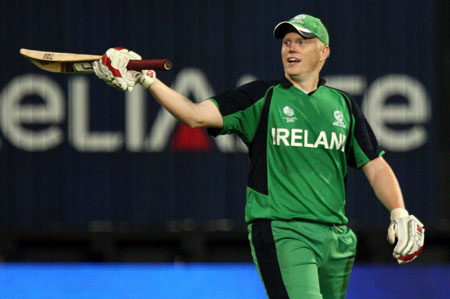 We're off to India again for the World T20, exactly five years to the day after the greatest triumph in Irish cricket history. It was March 2nd, 2011 in Bangalore when a pink-headed Kevin O'Brien tore up the record books as his fastest World Cup hundred saw Ireland complete a Roy of the Rovers style comeback to beat England by three wickets.
It was the stuff of fantasy - if you had read it in a novel or watched it on the screen you would have complained about it being too far fetched.
We had a few beers in the changing room - bottles of Kingfishers procured from our opponents - and didn't arrive back at the hotel until after midnight. Thankfully, having watched the game, the hotel management had reserved a room for the squad and supporters to celebrate for a few hours.
It was one of those nights when you could drink, drink and drink some more and not feel a drop go down, such was the euphoria. It was Andrew Strauss's birthday, and as the liquor flowed, the decibel level started to rise and a chorus of "Happy Birthday, dear Andrew" rang out across the Royal Gardenia Hotel.
To his credit, Strauss turned up along with Paul Collingwood and Matt Prior for a few beers. I don't think I'd have been able to do the same in their shoes.
The party continued in skipper William Porterfield's room until the wee small hours - I spent most of it swigging Jack Daniel's in a massage chair - it felt great. However, dawn saw my slumbers rudely disturbed by the world's media all wanting to speak to Kevin O'Brien.
The madness of the next three days was the busiest I've ever experienced in any walk of life. The phones and emails just never stopped. I was even given an assistant, such was the volume of work. I'd made it - Cricket Ireland now had a media department!
When I say assistant, you may be envisaging a stunning blonde - instead I got Ger Siggins, who was more stunned than stunning as he fielded the endless calls to let me grab some sleep.
We had learned quite a bit from the commotion that followed the Pakistan win in 2007 and set up a war room with CEO Warren Deutrom, Pat Nally, from sponsor RSA, various players and myself and Ger co-ordinating everything over the next 72 hours.
It all came to a halt on the eve of the India game at the same venue. Coach Phil Simmons ordered a media ban - no interviews. Another ambition of mine had been fulfilled, I was able to say, "Sorry, no media activity today!"
We couldn't let our regular media down, though, so a compromise deal was struck where they emailed me the questions, and I recorded their answers as audio clips and sent them back - it worked well for everybody.
During that stay in Bangalore, one of the supporters' touring parties had arranged free drink in the lounge bar between 6-7pm. Word quickly spread, and the 15 or so entitled to drinks soon swelled to 50. When the manager came in and saw what was going on, he ordered the waiters and bar staff to go around and start collecting money from the "gate-crashers". He couldn't have emptied the place quicker if he'd phoned in a bomb scare!
The Indian media in action just has to be seen to be believed. They are passionate, persistent and omnipresent. It's a great education for any media manager - survive there and you'll cut it anywhere on the planet.
Naturally enough they tend to be very India-centric in their interviews. On one occasion, I'd got a tired and sore Trent Johnston out of bed to speak to a reporter who had been waiting patiently and worked for one of the biggest papers in the country.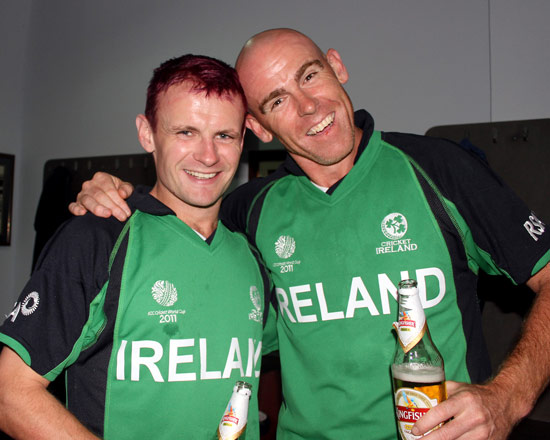 His first question was "What do you think of MS Dhoni as a captain?" TJ answered politely. Questions 2 and 3 were what do you think of Dhoni as a batsman and as a keeper. TJ's mood wasn't getting any better.
After answering, he said: "Look mate, I'm here to talk about Irish cricket and the World Cup." Question 4 was: "What is your favourite colour!?" I had to run away before bursting out laughing. TJ too saw the funny side - eventually.
I'm writing this from Dublin Airport - on my way to Delhi (or is it Londondelhi?) via Dubai. Those lovely people at ICC have given me a Business Class ticket.
My favourite Business Class story (yes, I've got a few!) comes from the 2009 T20 World Cup in England. The perks of a first class return from Belfast-London/Luton consisted of a bottle of water and a Kit Kat on the outbound flight and coming back I was entitled to "Speedy Boarding".
I was too embarrassed to claim it. When the flight attendant called out for any such privileged persons - the look of contempt and the collective head shaking from fellow passengers at the thought of anyone being stupid enough to pay extra to get on the plane two minutes before everyone else meant I kept my head down.
Where have the last five years gone? I reckon we need another pyrotechnic show form one of the guys - we don't want Bangalore 2011 to become our Wembley 1966.
Special shout out too to the Ireland Women who have just landed - as coincidence would have it - in Bangalore today ahead of their own World Cup adventure. They are more than capable of claiming a major scalp or two over the next month.
It's time for new heroes and new folklore to be written.